Furniture For Change offers recovering addicts a fresh start
Program provides hands-on training for future employment
,
RICHMOND, Va.—About three years ago, Brandon Ritchie was broken and desperate for hope, having become addicted to drugs and alcohol. He has since turned his life around — and his work in a special furniture store has been a major reason.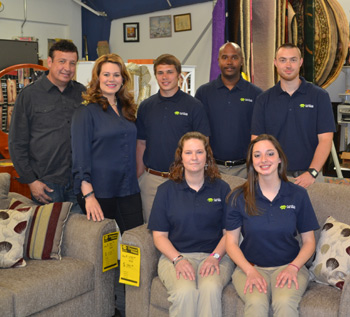 Back row: Pastor Carlos Rivera, left, and Rosalinda Rivera, executive directors of New Life For Youth; Austin Payne and Corey Booker, sales associates at Furniture For Change; and Brandon Ritchie, NLFY alumni and manager of FFC. Front row: FFC sales associates Tracy Roberson, left, and Forest Morrell.
The store, called Furniture For Change (FFC), is one of the several programs of New Life For Youth, which each year helps more than 120 people rebuild their lives as they overcome addiction. Vocational training figures prominently in that mission. It takes place not only at FFC but also at several other New Life Enterprises located in a 12-acre commercial park. FFC focuses on preparing participants for employment in retail or in parts of the furniture industry."I received hands-on training that you do not get in a classroom or from a textbook," Ritchie said. "I have learned fundamental skills running the day-to-day operations of a business." Ritchie, who is now the manager of FFC, said he has mastered such essentials as team building, personnel management, inventory and product purchasing, problem-solving and analyzing profit-and-loss statements. Tracy Carlmark, an alumna of the FFC program, spoke of learning how to sell and keep a store clean before taking on more management-level tasks. Eventually, she learned to price product, schedule shifts, maintain receipts and order new product. "I'd value anything anyone would tell me to help me do better," she said. Several skills are learned behind the scenes: About half the furniture in FFC consists of returns, overstock or damaged items donated by retailers or manufacturers. Before this furniture lands on the retail floor, it is repaired, painted, stained or reupholstered in FFC's repair shop, where New Life clients learn to do this work as well. "Good work habits and life skills go hand-in-hand with healing," said Rosalinda Rivera, New Life's executive director. "That's what's been the difference in our program. Our message is: 'You can do it. You can make it.'" Rivera, who has a background in retail, is the daughter of Victor and Carmen Torres, who founded New Life 43 years ago. Over the years, the faith-based organization has served more than 10,000 people from around the country, most in their 20s and 30s. Today, New Life clients either live on a farm for young men or in four other residential recovery homes, putting in stints that last between a year and 18 months. The organization also operates a food bank, distributes food to Richmond's poor, offers summer camps and helps families displaced by fire and accidents with clothing, furniture, food, and housing. All of these programs cost about $1.6 million a year to run, and FFC was started in 2004 to provide a funding source, in addition to donations, grants and monthly sponsorships of students. Nobody working at FFC is paid to sell furniture or gets commissions. The store generates $300,000 a year in sales and all profits help underwrite New Life operations.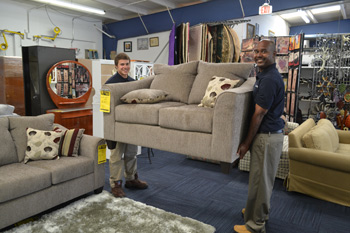 Furniture For Change sales associates Austin Payne, left, and Corey Booker, at work in the store.
"Where else can you go and spend money on a couch and help to save a broken life?" Rivera said.This message has resonated with the furniture industry. The Furniture Training Company provides scholarships for FCC students to participate in courses that teach various furniture industry skills. Home Source Industries has donated lots of furniture, and Abilene Motor Express provides trucks for the picking up of donated products. Fairfield Chair Co. donated more than 900 wooden chairs, which were used to teach FFC students how to stain and upholster. Global Furniture USA donated hundreds of table tops, dressers, and chairs; people in FFC's shop made legs and attached them to the table tops. And, in addition to donating furniture (worth hundreds of thousands of dollars),
Ashley Furniture
has provided FFC graduates employment at four HomeStores in the Richmond area. FFC "is very successful," said Jack Moehling Jr., the managing partner of the
Ashley
HomeStores in Richmond. "We have confidence in it." Moehling referred to several FFC graduates on his payroll, including one who repairs furniture and another who serves as a lead delivery truck driver. The truck driver "is doing great," Moehling said. "He bought a house and has a family." Another graduate on
Ashley
's payroll is Tracy Carlmark, who does bookkeeping. She credits FFC with her success. "It was truly life-changing," she said. "My life wouldn't be how it is now had I not gone through the program."
http://www.furnituretoday.com/article/488464-furniture-change-offers-addicts-fresh-start